I've posted all the useful blogger tutorials I can think of, so I was thinking about branching out and writing some tutorials about other computer/IT subjects. I just got a new 1tb hard drive for my birthday and the first thing I did with it was encrypt it (which took 38 hours, but 1 tb is a lot of space). This gave me the idea to write a tutorial on encryption and security. So I'll put that up soon if there's any interest. I would do it now, but I'm not done yet.



So today I'm going to give a few tips about passwords.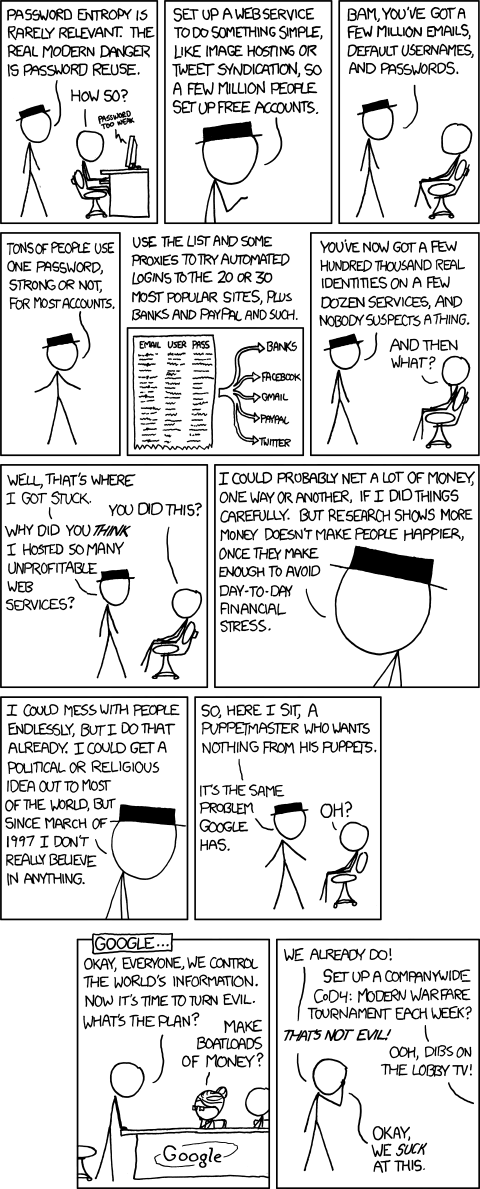 An easy way to create a secure password that is easy to remember, yet different for every website, or service is to use a basic password algorithm. It's easier than it sounds. Look around you. Got a printer, external hard drive, monitor or other piece of hardware? great! Find the serial or model number.
My printer is an HP C4780 and will make a good example. Once you have the model number add a hyphen or an underscore and the first three or four letters of the site or service the password is for.
So for a blog, my password would be C4780_blo if i was using my printer. Then for ebay, it'd be C4780_eba. This gives a password that is long enough to be considered secure, yet short enough to fit within most site guidelines. It has both upper and lowercase letters, numbers, special characters, and it avoids using one password for everything. If you ever forget your password, look over at the printer and it's right there, hidden in plain site.
Hope somebody finds this useful. I'll do a how-to on hiding your files with screenshots and everything pretty soon if i can, so if you're interested check back for that.
I did this on my new encrypted drive and now I gotta update my passwords at like 50+ websites, but I like to do that once a year anyway.